Guardian Liner™
The Guardian Liner™ crawl space vapor barrier is offered in two thicknesses; 20 mil and 12 Mil. Both sizes are actual plastic thickness, and not measured at the reinforcement thread which seems to be industry standards for the other companies. Both thicknesses of Guardian Liner™ vapor barriers offers a manufactures 25 year replacement warranty when installed in a crawl space by a trained Authorized Installer. Our crawl space vapor barrier is not only the best looking, but is made with only premium virgin polyethylene resins using the industries highest manufacturing standards.

The Guardian Liner™ brand crawl space vapor barrier stands alone. The only crawl space vapor barrier in the country that:

Is actual thickness, not nominal


Is American Made by an American Company

Carries a true 25 year warranty against delamination 

Trusted by hundreds of contractors and thousands of homeowners nation wide.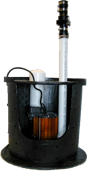 Innovative Water Management Design and Function
The InstaDry Sump Kit™ is the one product every crawl space should have. Not only does it have the most reliable sump pump in the industry (Liberty 237), it has innovative solutions built in.
The basin is designed to control hydrostatic pressure, it allows the sump pump access to ground water before it reaches the piping and becomes a problem.
The basin is fitted with an Anti-Float plate to eliminate the basin from coming out of the ground due to high water pressure. This design is exclusive to our sump pump system.
 The basin is an approved Radon Gas collection point. This means the lid comes with seals for the water discharge and cord exit points as well as creating a seal at the rim when used with the Guardian Liner™ vapor barrier. The lid comes complete with a 3" soil gas discharge hole used to mitigate Radon Gas as well as other soil gases safely.
The basin is made from structural polyethylene and fiberglass for superior strength and life long service.
Every Instadry Sump Kit™ is installed with a high water alarm, protecting your investment and alerting you of a power failure.

Crawl Space Moisture Control and Proper Dehumidification
Controlling crawl space moisture with a quality crawl space vapor barrier improves the environment greatly.  Conditions in the crawl space as well as local building codes will require a moisture management plan. This means a way to control the moisture then seeps into the crawl space from cracks in the homes construction, through the main level floor and around any other imperfections in the home. This is done by either adding a quality crawl space dehumidifier, like the Aprilaire Moisture Medic (with a 5 year bumper to bumper warranty), to directly remove moisture from the crawl space air or by adding a required number of heating and cooling ducts to condition the space. Depending on your lifestyle, you may need a dehumidifier, conditioned air or both. Either way, you will love the results!